One common adsense optimisation technique is to block low paying ads. The adsense interface allows users to block whole categories of ads like travel&tourism, real estate, health etc. Although the google adsense does try its best to serve the most relevant ads for a website based on its topic, keyword and content but sometimes when it runs out of ads it might end up showing non-relevant ads or ads from a different subject that have nothing to do with the main topic of the website.
In the new adsense interface the "Allow & block ads" section has Blocking options where the categories are listed and users can block them selectively. Adsense allows upto 50 categories to be blocked. So now the main question is that, whether does it really help to increase adsense earnings by blocking certain categories. This is better decided by looking at the reporting figures provided by the interface.
Here is an example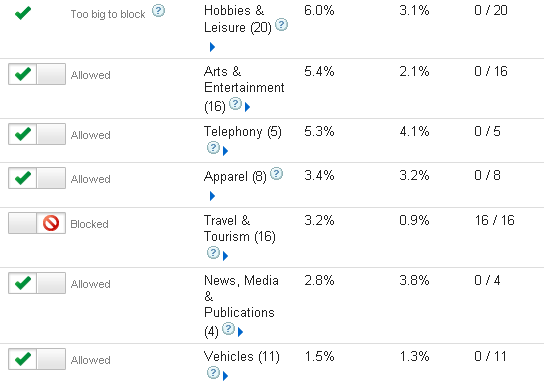 The 2 numeric columns are % of ad impressions and % of earnings in the past 30 days. Now for example I could see that the category "Travel & Tourism" was taking up 3.2% slot of impressions but contributing only a minor 0.9% of the earning share. So the key concept is that any category that has higher impressions but lower earnings may not be profitable. Therefore blocking such low paying categories can help to increase adsense income.
Another criteria to consider is that how much does it relate to the key topic of the website. Now binarytides.com is a blog on programming and travel/tourism is a different subject. So ads from such categories are not relevant.
Adsense provides only 30 day data for the categories performance so that performance actually has to be studied more frequently. For most websites the maximum revenue comes from only a few categories. Adsense maintains a separate list of sensitive categories like politics, drugs, religion etc. most of which can be blocked if not needed.