If you have extra time, then its an excellent idea to convert it to extra income. The online world brings a ton of opportunities to make extra income online from the comfort of your home.
This is real, but you have to work. All of these methods need time and effort on your part and if you can follow it to the end, you can be sure of making extra dollars every month consistently.
In this article we shall focus specifically on ways to make extra income online. You just need a computer and internet connection at home to work. No more hassles. So plan your schedule and dedicate time accordingly.
If you are just starting out, you need to spend some time to learn. As your move on, slowly and steadily you shall see more opportunities lying ahead.
1. The Best – Blogging
Blogging is a very popular way to make money online. A blog is your own website where you write and publish articles on a certain topic that you have knowledge about. Other people worldwide find your website to learn about the same topic.
When other people visit your blog, they can click on an ad or an affiliate link to make a purchase somewhere. This way you end up making money.
Here are some ways to make money from your blog:
1. Advertisements
2. Affiliate Promotions
3. Selling your own digital course
4. Sponsorships and paid content
Pros
Can make money passively
Complete freedom
No work commitment, or obligations
Cons
Takes a lot of time to make money.
Lot of things to learn.
Small initial investment needed for domain and hosting
Some risk involved
2. The Fastest – Freelance Writer
Freelancing is one of the fastest way to start making money online. You can work for clients from all across the world and get paid.
Freelance writing is a big business online. There are hundreds of thousands of freelancers worldwide that sell their writing services to make money online.
If you think you are good at writing then try out this method. All you need is to connect to clients that are looking for writers. And this is not difficult at all. There are online marketplaces that connect freelance writers with clients.
Here is a list of the best freelance sites for writers:
1. Upwork
2. Fiverr
3. Problogger Jobs
4. Freelancer.com
5. Guru
You can signup on the above marketplaces and start looking for writing projects.
Pros
Start making money quickly
Use your existing skills. Little need to learn new things
Flexible in work timing. Work from Home
No risk of any kind.
No investment needed
Cons
Like a contract job. Get paid only when work done.
No passive income or long term returns
3. Freelance Graphics designer
If graphics designing is your skill then you can do it for clients online. People are looking to hire graphics designers for jobs like logo designing, banner designing, infographics designing, artwork etc.
You can join freelancing websites and look for projects related to graphics designing and then connect with clients to work on their projects.
1. Upwork
2. Fiverr
3. Freelancer.com
4. Guru
Besides graphics designing, thee are many more skills that are in great demand like video editing, animation designing. If you can do those fancy stuff, then you have the opportunity for work on similar projects.
Pros
Start making money quickly
Flexible in work timing. Work from Home
No risk of any kind.
No investment needed
Cons
Needs specific skills
May have to learn and practice new tools and techniques as per industry requirements
Like a contract job. Get paid only when work done.
No passive income or long term returns
4. Freelance web/software developer
Freelance software development is one of the most popular ways to make money online. I myself worked as freelance software developer on Upwork and Freelancer for many years.
Software development is a vast subject and industry and there are numerous technologies to work with. Depending on your skills, you could be a web developer, mobile app developer, or a desktop application developer.
Technologies include php, python, html, javscript, android and ios development etc. If you don't have any experience of coding and still want to become a freelance software developer then you can first read online tutorials and watch youtube videos to learn. Then you can start looking for projects on freelancing sites and work on them.
I personally worked as a software developer for over 5 years and made a full time income from it. It works and is great if you like coding.
1. https://www.upwork.com/
2. https://www.fiverr.com/
3. https://www.freelancer.com/
4. https://www.guru.com/
5. https://www.toptal.com/
5. Voice over artist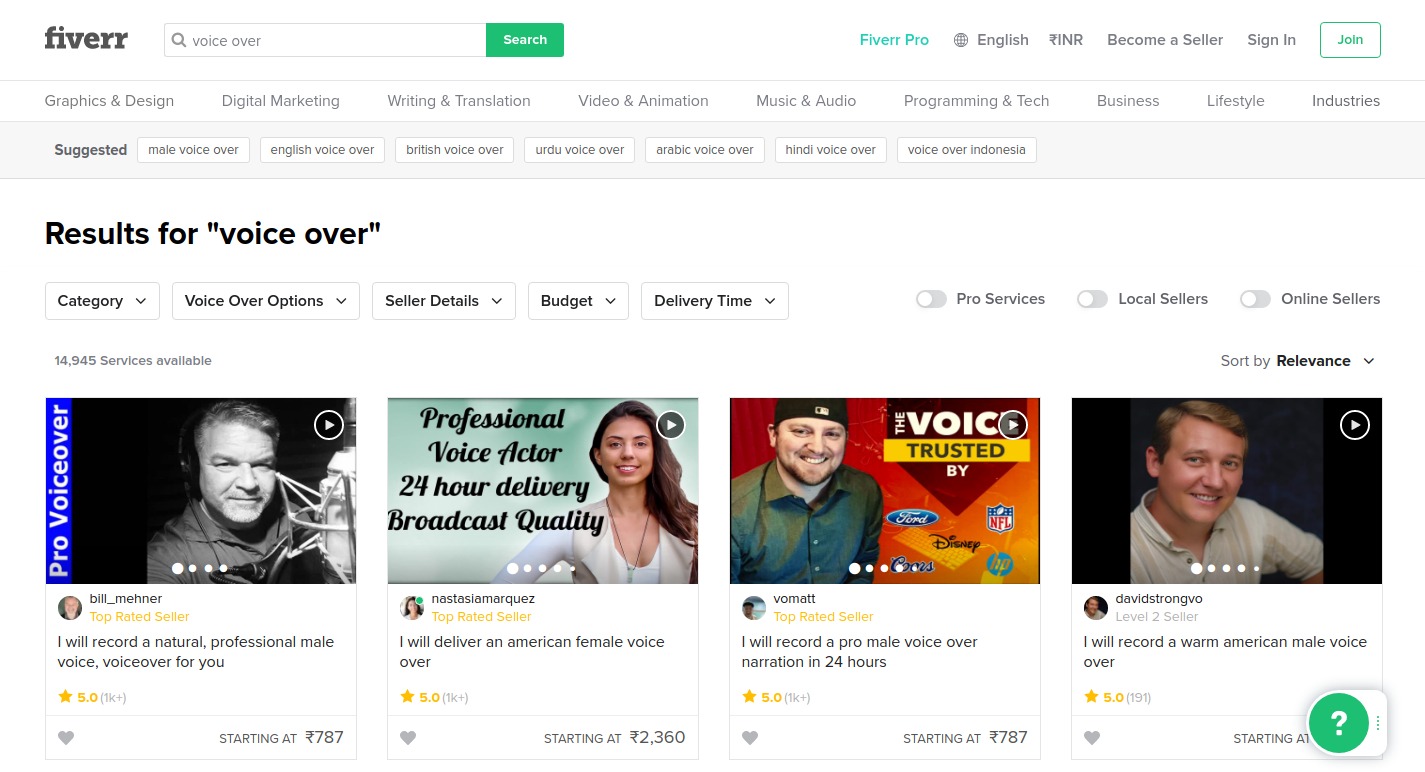 6. Social media marketing manager
Social media marketing is a kind of skill that requires knowledge of both marketing, effective copywriting and social media. Its a completely new branch of marketing that companies all across the world are slowly beginning to use.
If you think you have these skills then there are opportunities for you out there. Small and big companies need someone to manage their social media profile and create effective marketing strategies to generate business from this channel.
For example you can manage the facebook, twitter, pinterest, instagram profiles for a company and develop a marketing strategy to generate more traffic and leads. The company pays you for this service.
Pros
Start making money quickly
Flexible in work timing. Work from Home
No risk of any kind.
No investment needed
Cons
Needs specific skills
May have to learn and practice new tools and techniques as per industry requirements
Like a contract job. Get paid only when work done.
No passive income or long term returns
Highly Results oriented – You have to deliver results
However, social media marketing has its own challenges. You have to be able to deliver results to your clients and make sure that they achieve their goals of generating more business. Its not a submit your work and get paid kind of business model.
You have to generate more business and eventually more profit for the client and then only shall your service be considered valuable.
This needs knowledge and experience on how to use social media effectively for promoting a product or service or whatever the client is selling.
7. Translation services
Similar to writing, translation is another kind of service that has a good market out there. If you are fluent in 2 or more languages you can help your clients translate documents from one language to another.
For example from English to Spanish or the other way. Or Japanese to english and vice versa.
Translation projects are available on most freelance websites and market places like upwork and fiverr.
8. Transcription services
Transcription jobs involve listening to some audio and writing it in text format. Sometimes the audio can be in a different language and then its very similar to translation.
Transcription and translation is an ideal job for those who have a good grasp over writing in one or more languages and can help others translate audio or existing text from one language to another.
For example if you are good in both Spanish and English, then you can help someone transcribe spanish audio to english text and so on. Or you could just convert english audio to english text, though that would be a very easy job and would pay lesser.
Knowing more than one language can be a great advantage in transcription services as you would not only be transcribing but also translating which means you are delivering more value and hence get paid a higher price for your service.
Most online outsourcing marketplaces have separate categories for transcription and translation where thousands of jobs are listed every month or so. You just need get started with it.
Pros
Start making money quickly
Flexible in work timing. Work from Home
No risk of any kind
No investment needed
No need to learn any software or application as such
Cons
Needs specific skills
Like a contract job. Get paid only when work done.
No passive income or long term returns
One important advantage of this method is that you don't have to learn any software application or new skill. You just need a computer and a software to type documents into.
Here are some quick links:
You could also list your own transcription gigs on Fiverr, and charge your own rates.
9. Online tutoring
Online tutoring is an emerging market segment, wherein teachers or experts can help others learn a subject by giving online tuition classes. For example someone from a non-english country might want to learn english and you can help them learn english because you are a native english speaker.
Search google "online tutoring jobs" to find more resources.
10. Online data entry – Virtual Assistant
Virtual Assistant jobs are probably the easiest kind of spare time/part-time jobs that you can do to make some quick extra cash. Basically you do very simple tasks like data entry into excel spreadsheets or typing documents etc.
You can find plenty of virual assistant jobs on freelancer.com and Upwork, or you can list your own gigs on fiverr, and let clients find you.
11. BONUS – Start a youtube channel
Video blogging is the new emerging trend for content creators, though not everyone has the skills or feels comfortable making videos. But starting your own youtube channel can be a great way to setup an online business.
If you think you can videos then definitely give it a try. Running a youtube channel is in itself a big subject and needs a complete training course. However there are plenty of training videos on youtube itself that teach you how to start your own channel and run it as a successful business.
Or if you know somebody who is running a youtube channel you can seek guidance from that friend to help you get started. Or may be I shall post about it sometime in future.
Conclusion
Those were some of the best ways to make money online from home. You can make upwards of $1000 per month if you have the right skills and the time to use them.
Setting up your online business is not an overnight thing. You need to put in time and energy and be patient. With efforts in the right direction you will eventually reap the profits.
Think carefully and chose the correct business model that matches your skills and mindset. If you are not in a hurry to make extra money and are willing to invest time, you might try blogging as it can be a great source of passive long term income.
On that other hand if you dont want to invest anything and just offer services in exchange for quick money then writing or virtual assistant can be a great option. But remember, that the earning potential may be lower on this route.