Semrush
Semrush is a great tool for SEOs, Bloggers and Affiliate marketers. It is an all in one competition analysis tool that reveals the keywords, backlinks of your competitor's website.
If you are building websites and want to drive more organic traffic, semrush provides valuable data that can help scale up your online marketing efforts.
With keywords data you can discover new content opportunities, and with backlink reports you can find new places to build backlinks for your own site.
If you are doing any kind of serious content marketing or managing ppc campaign, a comprehensive suite of tools like semrush can make a huge difference.
In this post we take a quick look at some of the most useful features of semrush.
1. Find keywords a website is ranking for
If you need to check what keywords your own website is ranking for, you can use the Google Search Console. But when you need to check the keywords of your competitor's websites then you need a competitive intelligence tool like Semrush.
With semrush you can check the keywords of any website and use this data to discover lots of content opportunities and angles for your own site. You can target these new keywords on your own website to generate more organic traffic and consequently more sales and leads.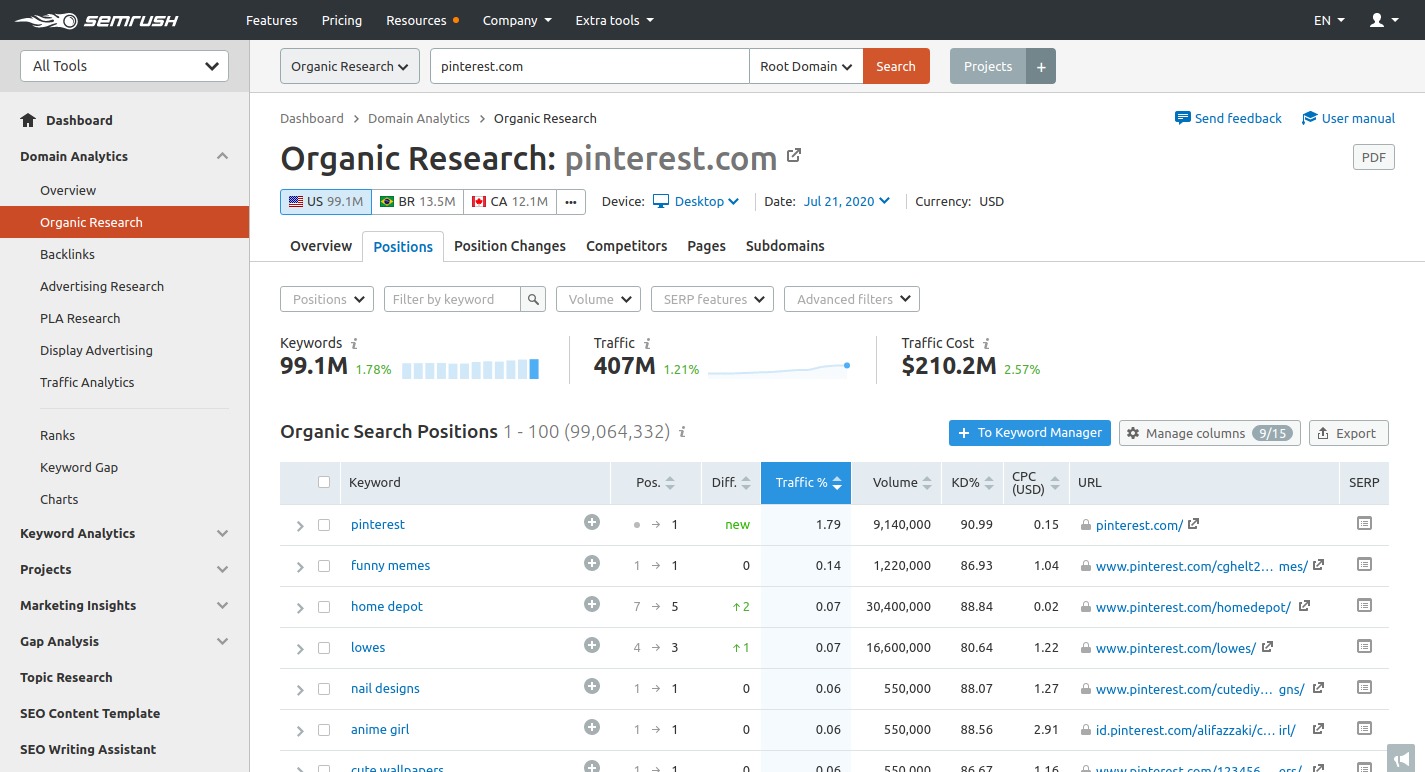 Chances are that you would come across keywords that you have not yet used on your website or written an article about. Now that you know such keywords, you can straight away publish content and get more traffic from google.
As semrush shows the volume date as well, you can prioritise your selection on those keywords that have higher volume or lower competition. That way you have a data driven accurate strategy for your content marketing plan.
Semrush also tells the position of a website in google for each keyword which gives you an idea of how the competition levels likely are.
2. Check traffic of website (fairly accurate)
With Semrush you get the traffic estimates of any given website over a large period of time. You can see how much traffic other websites in your niche are getting and how strong each of them are. The ones getting more traffic likely have more content or more backlinks or both.
By carefully analysing these high traffic websites, you can get an idea of what you need to do for your website to get more traffic.
The traffic estimates indicate the popularity of a website and how good their SEO is. Websites receiving more traffic have likely done a better job at SEO.
3. Find the top ranking pages of website
If you can find out which pages or posts of your competitor website are getting the most traffic you can steal those topics right away and publish content on your own blog. That's an absolutely great idea to increase your traffic quickly.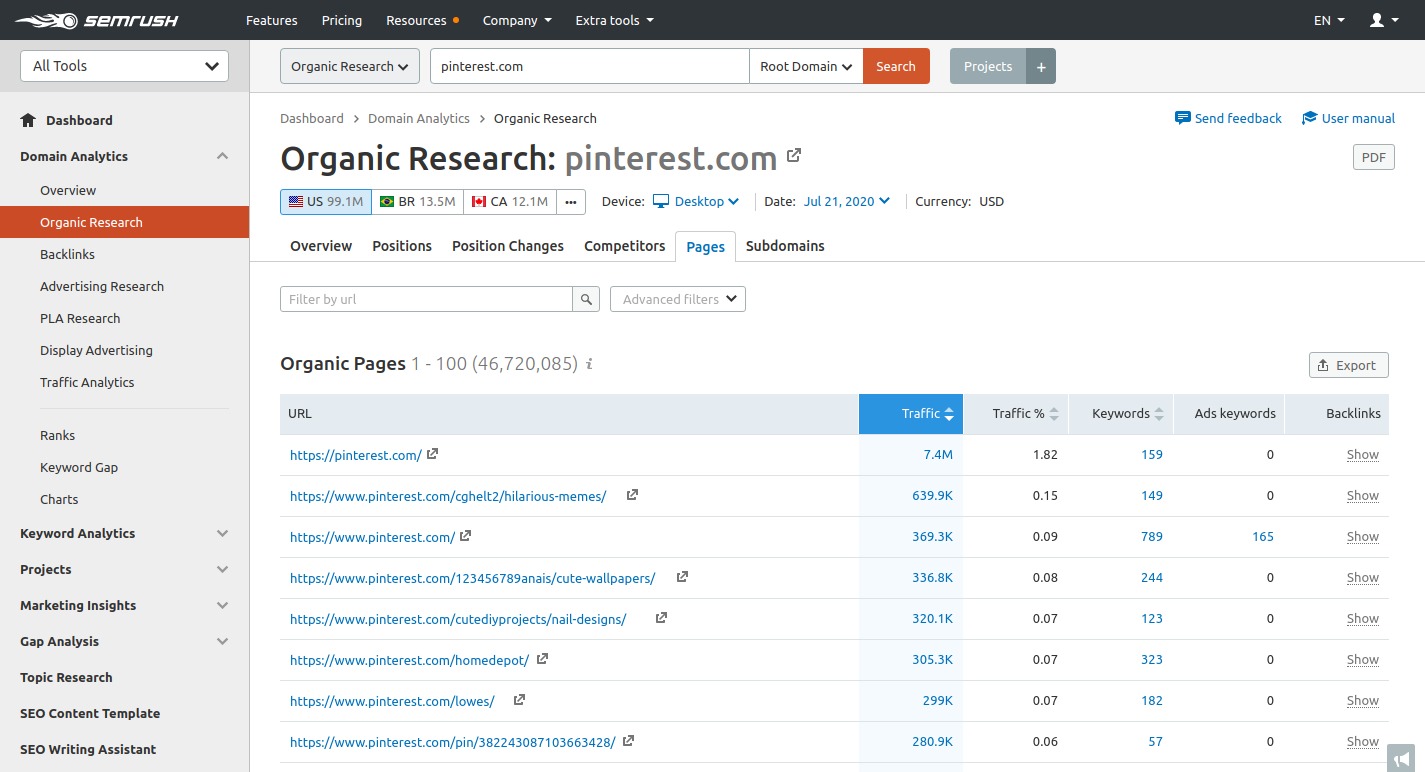 The above report inside semrush shows the top pages (by organic traffic) of pinterest.com and how much traffic each page is getting along with the number of keywords that are driving that much traffic.
Popular posts mean that the posts are getting a lot of traffic either due to high search volume or due to high rankings.
4. Find close competitors and similar websites
When starting a seo campaign in a new niche, its important to check other sites that are in the same niche and performing well.
These sites show up what kind of content is ranking well on Google and what similar things we can do as well in this niche market. From these sites we can quickly get lots of content ideas and topics and save time.
This is a great way to build a content plan for a brand new website specially if you are less familiar with the niche. All you have to do is study and follow other sites and take inspirations from these.
5. Find popular topics on the web around a keyword
Viral topics that are popular across the web on social sites is a great source of ideas for content on your website. Topics that are popular are likely to generate lots of traffic and you can publish content around these topics on your website as well.
In the above example we used the keyword "funny dog" to find popular topics on the internet around that keyword. Semrush shows the url of each content article along with facebook shares and number of backlinks.
Metrics like number of social shares indicate the popularity of an article. Sort by these metrics to find the most popular articles from across the web and get an idea of what the audience is looking for.
6. Find the ppc ads and keywords of website
If you plan to run ppc campaigns to drive targeted traffic to your or a client's website then spying on competitor's ads is a good place to start.
By looking at your competitor's ads you can find out what kind of ad copies, headlines and keywords are converting for that market. Next you can use these ad copies to model your own variations. Save time and don't reinvent the wheel.
Competitive intelligence and research is extremely importantly for ppc marketers whether you are driving traffic for a client or your own business websites.
There are many other tools that provide similar data like https://www.ispionage.com/ and https://www.spyfu.com/. However if you wan't a single tool for all needs then Semrush is the tool to go after.
7. Monitor and Audit your own website projects
Audit your own website's using Semrush project management tool. Its a collection of tools that scan your website and look for seo issues that are affecting your site. Check for onpage factors, backlinks and many other things.
The Backlink audit tool reports the bad quality and toxic backlinks that could have a negative effect on your site. check the report and take necessary steps to fix the problem.
8. Check backlinks of website
If you wan't to know how a website is ranking high on google, check its backlink profile and see who is linking to them. The backlink profile of a website reveals how strong its link authority is and it also enables you to find potential opportunities to build links for your own website as well.
Semrush has a comprehensive backlink checking tool that comes with the Pro plan. It allows you to check the backlinks, anchor text, dates when seen, backlink types, link attributes and many other details.
Here is a quick screenshot showing the backlinks of pinterest.com. Now of ofcourse your website won't be having so many backlinks.
To build backlinks the first and the most critical step is to find websites where backlinks can be built. This is not an easy or quick task. It takes lots of search and research over many months.
However, one easy technique is to take the look at the backlink profile of your competitor website. Those places where your competition has backlinks, you can get a backlink too. And to check the backlink profile of your competitor you need to good enough tool like Semrush.
This is perhaps the most powerful application of any seo tool. People always want to see the backlinks of other websites in order to find opportunities to create backlinks for their own site.
There are other backlink checker tools like Ahrefs and SeoMajestic.
9. Generate keyword ideas with volume data
Semrush can generate keyword ideas just like the google keyword planner. It generates a lot more keyword keywords than the google keyword planner and also shows the keyword volumes.
Google keyword planner stopped showing the exact volume numbers recently. You need to have campaigns running in order to see the volume metrics.
10. Check advertisers on a website
A lot of websites use display ads to make money and such websites are called publishers. If you wish to know what ads are being shown on a publisher website, semrush has a tool for that named "Display Advertising".
This tool will tell you which websites/urls are serving their ads on the ad units on a particular website. The ads could be coming from any ad network like Google Adsense, media.net etc.
By looking at the advertisers on a certain website, you can get an idea on whether there are lots of high paying advertisers in that particular niche or not.
If you see a lot of niche relevant ads on a website, its an indication of a commercial niche that has products and services being advertised by companies and brands.
On the other hand if you see very generic non targeted ads, then the niche does not have a lot of high paying advertisers.
This tool can be used to analyse the market in a niche and see if its profitable to build a site on it.
Conclusion
That was a very brief review of the most useful features of Semrush. Semrush is just one of the many paid seo tools out there in the market, but it packs together some of the most essential features that every SEO needs.
Having all the necessary tools in one place along with data that is highly accurate, makes semrush an excellent investment for any seo professional or affiliate marketer.
Some of the major competitors are Ahrefs and SeoMajestic. Each tool has a slightly different set of features and a comes at a different price range. I have personally used many of these paid tools and found Semrush to be an excellent all in one tool where you get all the tools that you would need without having to pay a big subscription fee.
If you are into affiliate marketing, blogging, client SEO, PPC services or any similar domain, Semrush can get you a lot of useful and powerful data about any niche or marketing helping you to do better in your online marketing goals.