Keyword suggestion tools – Find long tail keywords
Keyword suggestions are a great way to discover long tail keywords in your market or niche and develop content ideas to write blog posts that attract lots of visitors.
Most search engine provide users with look-ahead keyword suggestions as they type in their query in the search box. These suggestions provide valuable insights into the market and ideas about what people are searching.
In this post we take a look at the best free keyword suggestions tools that you can use to get keywords from Google's auto-suggest database.
1. SeoStack Chrome Extension
A free and easy to use chrome extension that gets you keyword suggestions from Google and Youtube. Install from the following url –
https://chrome.google.com/webstore/detail/seostack-keyword-tool/labjajhkfjfncpiddbgdimcaldgeognn?hl=en
Allows you to input multiple seed keywords. Each seed keyword is modified using letters a-z and numbers 0-9, and then the keyword suggestions are fetched. Also supports exporting keywords to a csv file.
http://ubersuggest.org/
Ubersuggest is a web based tool and can be found here. Input a seed keyword and it would generate keyword suggestions from Google.
Ubersuggest modifies the seed keyword with alphabets and numbers to generate upto 300 or more keyword suggestions. It also has a nested user interface that allows you to further dig a keyword with a single click
https://www.hypersuggest.com/
Hypersuggest is another tool similar to Ubersuggest. It can fetche keyword suggestions from both Google and Youtube. Hypersuggest allows you to select keywords and download them as csv.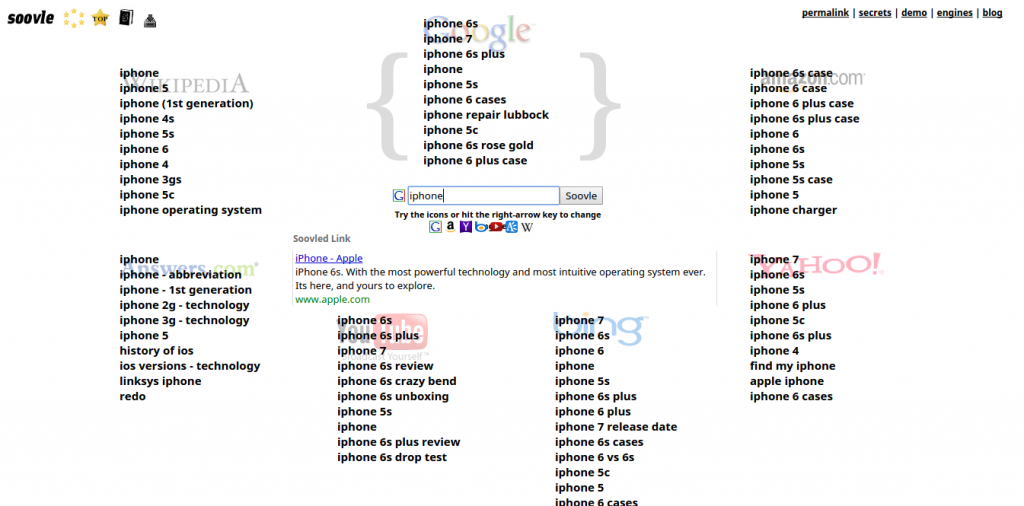 http://soovle.com/
Soovle is another web based tool, but with a decorative design. It also supports many more engines compared to Ubersuggest and Hypersuggest. However Soovle shows very few suggestions for each keyword.
Soovle supports multiple search engines including Google, Youtube, Yahoo, Bing, Amazon, Wikipedia, Answers.com etc.
http://lsigraph.com/
Lsigraph is another neat little tool that generates keyword suggestions around the given seed keyword. It does not use a wildcard pattern for each alphabet. Instead gives a small number of keywords per seed keyword.
Web based simple tool that fetches keyword suggestions from Google, Bing, Amazon and Youtube. It performs wildcard based queries by appending letters a-z after the seed keyword and makes the query.
Exports keywords to a simple line separated text file.
http://answerthepublic.com/
AnswerThePublic has a unique fancy user interface. It fetches keywords by adding alphabets, prepositions and query words (like what, when, how) to the seed keyword.
The question modifiers quickly generate some of the most common question patterns around the seed keyword. These are questions that people are typing and are likely to have good traffic opportunity.
Keywords are displayed in a fancy visual format (like lsigraph), as well as a simple table format. There is an option to export the keywords to a csv file. Keyword are fetched only from Google
That's all
That's all for now. Try out those keyword suggestion tools to find long tail keywords.
If you know of another great keyword suggestion tool that should be in the list, leave a comment below and let me know.
Thanks for reading.